Order a custom best man speech and/or poem that will punctuate the wedding reception or rehearsal dinner with humor, sentimentality, originality and class.  

Answer the following questionnaire the best you can so that we can get some details about the wedding and we will quote you a price. 

References

Most of our customers prefer keeping our relationship a secret.  However, if it will reassure you about our service, some are willing to relate their experience with us to you.

Copyright      2003 - 2011 Words2Touch Speech Writing Services. All rights reserved.

©
Custom Best Man Speech Order Form

"I have used Words2Touch on two occasions.  Their excellent, creative speeches were a lifesaver both times."

Rita Pallotta

Montreal, Canada

POEMS:

Whether your intent is to pull at some heartstrings, entertain, or both, rhyming wedding poems are a great addition to any best man speech.

$20 U.S. for every 4-line verse.

FREE REVISIONS:

The guaranteed number of free revisions that we offer are based on the time that we are given to write your best man speech, as follows :

- Less than 1 month         : 1 Free Revision

- Between 1 to 3 months  : 2 Free Revisions

- Greater than 3 months   : 3 Free Revisions

Most of the custom speeches that we have written required one or no revisions for our customers to be comfortable with or that they slightly tweaked themselves..

RUSH SERVICE:

Even though it will be our pleasure to write something very creative and memorable, if you are pressed for time to get a custom best man speech it puts more pressure on us to deliver a gem of a speech for you.

Base prices for speeches needed within 72 hours are adjusted in the following manner.

You require the speech in < 72 hours - Base Price x 1.25

You require the speech in < 48 hours - Base Price x 1.5

You require the speech in < 24 hours - Base Price x 2.0

MULTIPLE LANGUAGE SUPPORT:

Complementing their English writing skills, our writers are also well-versed in the following languages:

> French

> Italian 

If you would like to address your audience in more than one language, the cost of your speech will be adjusted in the following manner: 

Add $20 U.S. for every 100 words in another language

PROOFREADING SERVICE:

If you have written a best man speech, but you're not sure how good or appropriate it is, our experienced writers can review it for you ...
Learn More
Telephone : 1-514-648-7933

3 to 5-Minute Custom

Best Man Speech

(700 words max)

$159 U.S. *

6 to 9-Minute Custom

Best Man Speech

(1200 words max)

$279 U.S. *

10 to 15-Minute Custom

Best Man Speech

(2000 words max)

$399 U.S *

* Assuming that you are the best man, what is your name ?

* What is your e-mail address ?

* In what country do you live in ?

* What is your phone number ( please include area code ) ?

What kind of writing help do you need for the wedding ?

When is the wedding date ?

In what city or town will the wedding be held ?

Is this speech for a wedding or rehearsal dinner ?

How comfortable are you talking in front of an audience ?

What is the groom's name ?

What is the bride's name ?

If you had something specific in mind for your best man material, please give us a brief outline ?

What is your relationship with the bride and groom ?  Were there any funny or interesting incidents, involving the groom or bride, which happened in your presence   ?

Do  the bride and groom have nicknames or terms of endearment for each other ?  Any reasons behind them ?

What are the bride and groom's dominant personality traits ? What do you like the most about them ?

Do the bride and groom have some habits, mannerisms, favorite expressions or physical characteristics that we can poke some fun at ?  Do you have any ?

What are some of the bride and groom's favorite interests ? This can include hobbies, sports, volunteer work, foods, restaurants, music, movies, books, TV shows, idols, famous personalities ...

What are some of the groom and bride's dislikes or any phobias they have ?  Are there things about the other that annoys either one of them ?

WE DO NOT GIVE YOUR INFORMATION TO ANY OTHER PARTIES

Is there anything unusual, unique or of a delicate nature surrounding this wedding ? 

Are there other people that you would like to acknowledge in your speech and what would you like to say about them ?

By clicking on the 'Submit' button, your order will be processed and we will confirm our availability, your final purchase price, the number of free revisions that you will be entitled to and payment details. 

We accept the most popular credit cards and automatic debits from bank accounts through the PayPal processing system, as well as money orders.

Fields preceded by a * are mandatory

If you want a poem, please indicate how many 4-line verses you would like it to include ?

How did the bride and groom meet ?  How long have they been together ?  What were their first impressions of each other ?

"Stamford, Conn. plumber John Kocot is one of Milevoy's repeat customers.  Milevoy ( Words2Touch founder ) wrote him a best man's speech last summer and he is composing another one that Kocot will deliver at his brother's wedding later this summer.  'My brother is a Star wars freak, so Alan will be hitting on that,' said Kocot.

Kocot's speech last summer went over well with his audience.  'People complimented me afterwards,' he said."

Monique Polak

The Montreal Gazette

June 25, 2005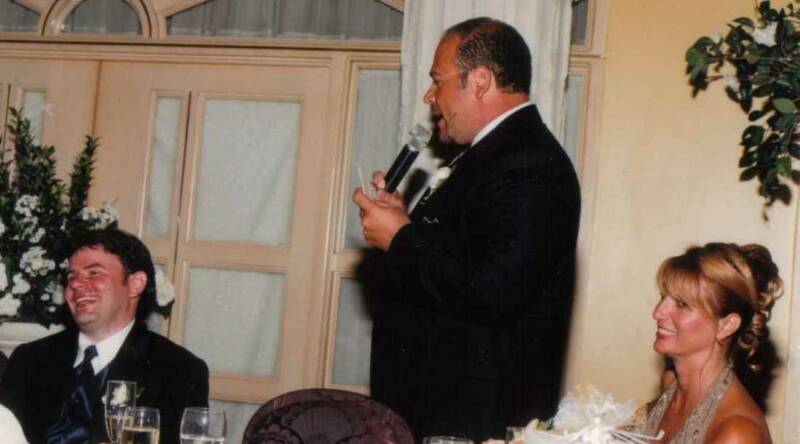 WHEN YOU HAVE A CHANCE TO SHINE WILL YOU HAVE WORDS TO TOUCH YOUR AUDIENCE ?


WE craft your personalized speech.  YOU bask in the applause.

What is the latest date that you would like your material to be completed by?  Please note that the more time we are given, the better the quality of your material likely will be, and/or the lower the price will be, and/or the greater the number of free revisions that will be available to you.

What is the approximate percentage of your material  that you would like  to be written in a light hearted tone ? The rest of the speech will be written in a more sentimental or serious tone.

* Prices shown are for speeches when we are given sufficient pertinent information to work with, and that combine about an equal amount of humor and sentimentality. Speeches deviating from these conditions  may cost more.